Stars off the Stage
School just ended, people are filling out and leaving, and a group of students heads to the theatre. The stage lights are on, actors are going over lines, techies are building the set and the director is ready to start rehearsal. When it comes to theatre, people don't realize the work that happens off stage. In the theatre department, there are two stage managers, soph. Ashlynn Baumgartner and soph. Jillian Nelson. Stage managers are the right-hand person to the director. They attend the most rehearsals and make everything easier for the actors, techies, and directors. "We basically write down what everyone does and call cues at every rehearsal and tell tech what to do," Baumgartner said. Calling cues is when they are in charge of saying when a spotlight should come on, a curtain should open and close, when sounds start and stop or even when the beginning of the show should happen. "During the rehearsal period we are there everyday writing down everything that the actors are doing, and then when actors eventually get off book we are there for when they call line," Nelson said.

When an actor forgets a line, the stage manager would give the start or the entire line that they are supposed to say. A great way to say what they are in the department is that they are there to "draw a bridge between the director, actors, and tech," Nelson said. They both expressed that their favorite part of being a stage manager is the rehearsals and doing it with each other. Unlike previous year when there was only one stage manager, this year there are two stage managers, but the two prefer that saying that it's "nice during tech week because we can work as a team and be there for each other through the stress," Nelson said. They also mention the difficulties of the job as sophomores, saying "it can be hard not being able to drive and having to balance school work and this job," Baumgartner said. Their work definitely does not go unnoticed. These two are working hard on the upcoming play "Arsenic and Old Lace" which will be showing starting Nov 16.
About the Writer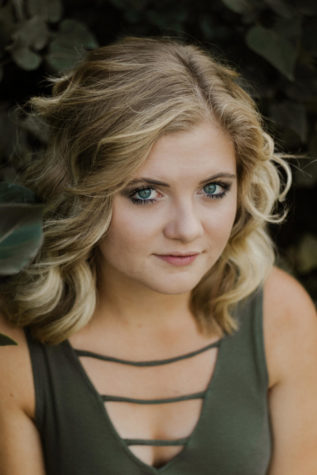 Morgan Bakos, Staff Writer

Favorite Color: Sky Blue
Favorite thing about Journalism: It's a great group of people and it's amazing seeing the final product.
Favorite...