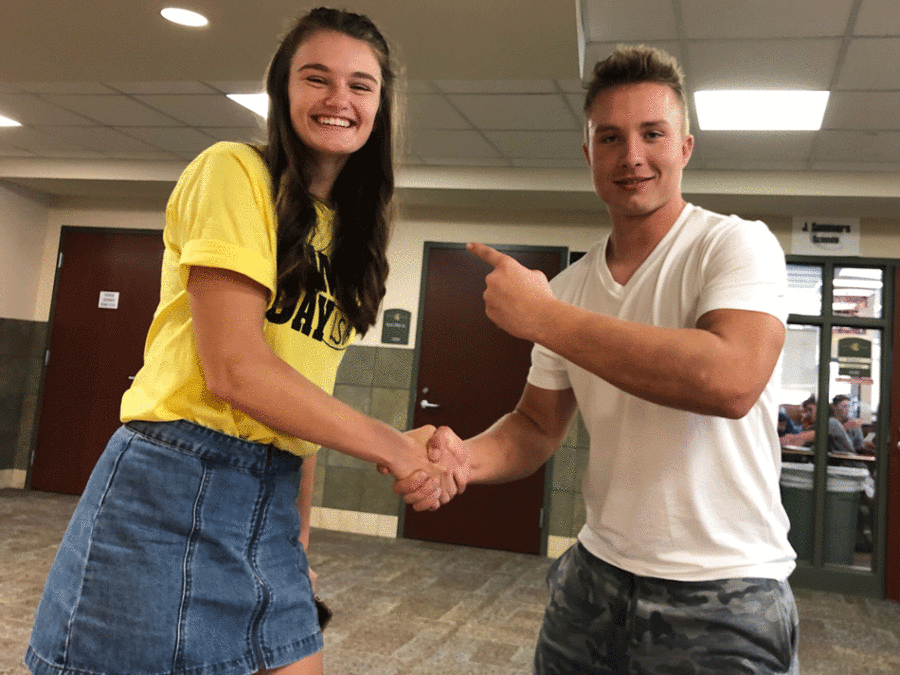 Interview with Volleyball Captain Jasmine Mulvihill
Every week, Girls Volleyball is one of the most exciting events for Lakeville South students. Over the years the team has built a culture and expectation of winning that has passed on to its current squad. On the journey to another appearance at state, we interviewed two of the captains Jasmine Mulvihill and Alena Moldin to discuss their thoughts on the season and team. This is our interview with Jasmine.
Q: Who do you think will be the toughest opponent this year?
A: Champlin Park, their setter is committed to the University of Wisconsin.
Q: Are there any young players on the team this year that are impressing you?
A: Jasmine Weidemann, She really stepped up as our setter this year even after not playing it last year.
Q: Who do you see as being captain for next year?
A:  Peyton Stier, Emily Torborg, Ava Moes. They are very organized.
Q: What responsibilities do you have as captain?
 A: Keeping the team together and focused on the court. Trying to teach the young players on the team on and off the court showing respect to everyone
Q: Have any refs made any questionable calls this year?
A: The north game, but we definitely took (the calls) well as a team.
Q: Are there any power players in the conference this year to look out for?
A: Elizabeth Junkie, she didn't play last game so we're waiting for another chance to play her.
Q: How often do you guys practice during the week?
A: If we are not playing, we're practicing and if we're not practicing we're lifting before. This week's schedule is different, we're playing Monday and Thursday.
Q: Do you do any fun team building activities outside of school?
A: Did the Escape Room as a team and we do team sleepovers. As a program, we did Feed My Starving Children and that was fun
Q: How far do you see this year's team going in the tourney?
A:  If we make it to the tournament we have to play North in the section finals. Our biggest competition I think is Champlain Park, because we lost to them in a tournament in Marshall, "One step at a time"
Q: Are there any colleges/teams you're looking into for next year?
A: I'm committed to Concordia, so I'll be playing there next fall.
Q: Who's your biggest role model in the sport of volleyball?
A: Jenny Moser, since Freshman year she guided me on the court and made me who I am today.
Q: How old were you when you first started playing volleyball?
A: Kindergarten
Q: Do you play for any exclusive teams outside of school?
A: I played for Northern Lights club team the last winter. I'll be playing Minnesota Select this winter.
Q: Do you know any of the players you'll play with next year when you take your next step in your volleyball career?
A: I got to practice with the team, and one of the labarros played on select with me so I got to watch her play.