Interview With Bryar Boos
Hang on for a minute...we're trying to find some more stories you might like.
During halftimes at a varsity Lakeville South football game, you can expect to hear chants of "CDT, CDT!". The Cougar Dance Team then comes out and performs their show to the cheers of the students. But there is a lot more to the team than that. We sat down with one of the members, Bryar Boos, to discuss the team and the work that goes into the sport of dance.
Q: What's it like balancing studio dance with CDT?
A: It's really hard because I'm just always so busy now and I'm not used to doing both.
Q: So it's your first year performing for football games. What's that like?
A: Yes, it's really fun and exciting. I don't really get nervous, because I know nobody can tell it's me on the field.
Q: What's a typical practice look like?
A: We stretch, work out, run and clean our dances.
Q: So I've heard how there's some consequences to kids making mistakes during practice, can you explain that a little or give an example?
A: Yes, like when we run laps if someone doesn't run one then we all have to a plank or something.
Q: For any sport team bonding is important, what does your team do to strengthen in that area?
A: We play games and pick partners that we haven't talked to from another grade for things. But we don't really hangout after school.
Q: You're also in encore, how do you balance that time wise?
A: It's hard because it's in the morning and it's hard to wake up in time after being tired from the practices the days before.
Q: What made you hesitant to wait until junior year to try out?
A: I wanted to just check it out and see what it was like without being on the team to see if I liked it.
Q: So I know it's your just doing fall CDT, is this something you're going to pursue next fall?
A: I don't know, maybe. It's been really busy, but my mom might make me.
Q: What or who motivates you?
A: I watch youtube videos of dances and it motivates me to want to go stretch and I motivate myself.
Q: What advice would you give to incoming freshmen thinking of joining CDT?
A: Just try it, if you don't like it then you don't have to do it again the next year.
Q: When was it for you that you started taking dance seriously?
A: When I quit swimming in 7th grade and Bella (her sister) was doing competition, so I wanted to also.
Q: Do you plan on furthering your dance career after high school?
A: Yes if I can, I'll probably have enough free time.
Q: If you had to choose between encore and CDT which would you have to choose?
A: Encore, because it's in the morning and doesn't interfere with anything after school.
Q: Have you ever thought of combining your singing with your dancing before?
A: Yes, for my solo senior year I'm going to, but I don't know what song yet.
Q: How hard is it to choose a song that you want to use for your dance?
A: It's actually super hard, my mom sends me like six thousand song choices and I don't like any of them.

About the Writer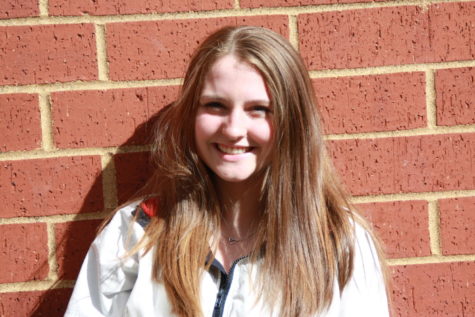 Sydney Caltagirone, Staff Writer
Favorite Color: Lavender
Favorite thing about Journalism: Mr. Burk and how chill the class is
Favorite Quote: "Once again the world has proven anything...