From flips to kicks, Olivia Fiedler transitions from gymnast to dancer
Hang on for a minute...we're trying to find some more stories you might like.
Olivia Fiedler began her long ride of being a gymnast at a young age of 4. She grew tremendously in this sport making her way all the way to level 8 out of 10 levels by 8th grade. Competing at such a high level she had a decision to continue on going to the elite levels and switching gyms or choosing another sport. She was moving on to high school and felt she wanted to have more free time on her hands, which made her choose to join the dance team, rather than continuing her gymnastics career.
Olivia is the youngest of 3 children. Her older brothers of whom are Noah(17), Evan(19), and Olivia(15).
The Fielder family is all very athletic and thriving in their sports, but Olivia has no big reason as to why she was put into dance.
"My mom put me in a gymnastics class at TAGS and one day it just stuck," Olivia Fiedler '21 said. Later, she switched over to dynamics gymnastics in Burnsville, MN.
Gymnastics started to be a big focus in Olivia's life. At a young age, practice was not as gruff as it will soon come to be as she moved up levels. Gymnastics continues to grow in Olivia's life making her drive and determination even more immense.
Gymnastics can be a very brutal sport, "30 min cardio, an hour plus of conditioning, go to events for 2 hours, finishing with 30 minutes of stretching" Fiedler said.
Even though Practices are long and hard every day, but for Olivia having her friends at practice always makes it more enjoyable. Olivia made her way up to level 8, competing at many competitions on her way to where she is now. Gymnastic competitions bring a new aspect competing.
It is a very exciting part after all the training, "showing off new skills and routines but very nerve racking cause you get one chance and it is easy to fall or mess up" Fiedler said.
After level 8 of gymnastics, you can then go on to level 9 and 10 which are the top level of gymnastics to be on. Once you have reached this level you are most likely to continue on to college gymnastics. But in Olivia's situation, she still had a few more years of high school left so she would need to switch over to an elite gym where she could compete at Worlds and Nationals.
In gymnastics level 8, Olivia the top gymnast in the state as she was placed first at her state competition. Although she was just placed first, this was not enough to keep her in the sport. Making the decision to quit did not come easy for her.
"I was on and off for 3 months," says Fiedler. "There were many talks and tears with my coaches," Fiedler added.
There was an idea in her head that she would just take a break for and just go back after a few months. Many hardships were felt as Olivia left the gym.
The toughest part for her though had to be leaving all of her friends some of them for over 6 years. After gymnastics, Olivia knew that she needed to be involved in something so she decided to try out for the cougar dance team since she knew a few people doing it and later decided she would join the winter dance team.
Dance and gymnastics are two very different sports, yet some gymnastic skills can carry over into dance.
The biggest difference for Fiedler is being on a real team.
"The team aspect. It was hard going from all eyes on you to having a team also relying on you" Fiedler said.
Gymnasts contribute to a team in individual events, but it is not going to matter too much if there is an injury or someone does not make it to the meet. In dance, this is the total opposite because you work as a team.
Dance competitions are another major difference.
"
Competing at dance competitions are more fun than stressful, you get to get ready with your friends and hang out until it is time to perform"
— Olivia Fiedler
"Competing at dance competitions are more fun than stressful, you get to get ready with your friends and hang out until it is time to perform" Fiedler adds.
Many people come to dance competitions to cheer on their fellow classmate or family member, making there be many people in the crowd rooting for the team.
Gymnastics and dance are both very similar in how brutal practices and competitions can be.
"In gymnastics, I practiced 22-24 hours in a week," Fiedler said. On The Cougar Dance Team, you will dance 15 hours a week. The time span may be very different, the amount of work put into each is close. Both take in lots of cardio and stretching to keep up with all the leaps and tricks.
Fiedler is only a sophomore and has been done with gymnastics for 2 years now. If she were to do a sport in college it would be gymnastics. But, "since I have been done for so long now I feel as though I could not go back," Fiedler said.
The practice time of dance gives Olivia much more spare time to do other activities.
"I teach a youth group on Wednesday and I love doing that," Fiedler said.
Joining dance and quitting gymnastics may not have been easy for Fiedler at first, But now she is thriving living the best life possible.

About the Writer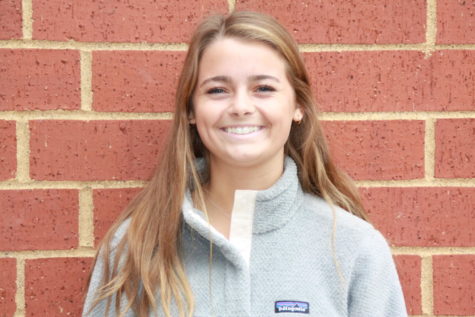 Madison Wolter, Staff Writer
Favorite Color: Red
Favorite thing about Journalism: Interviews
Favorite Quote: "I choose a lazy person to do a hard job. Because a lazy person will...