Superfan Erik Iversen bleeds cardinal and gold.
Zach Hoff, Staff Writer
October 12, 2018
If you go to any Lakeville South football game, you are almost bound to meet or at least hear, Erik Iversen. Iversen has been to every football game thunderously cheering on the team, regardless if they're winning or losing. Many students have labeled him as the leader of the student section, so for most, it was no surprise as to why he was recently voted in for this years homecoming court.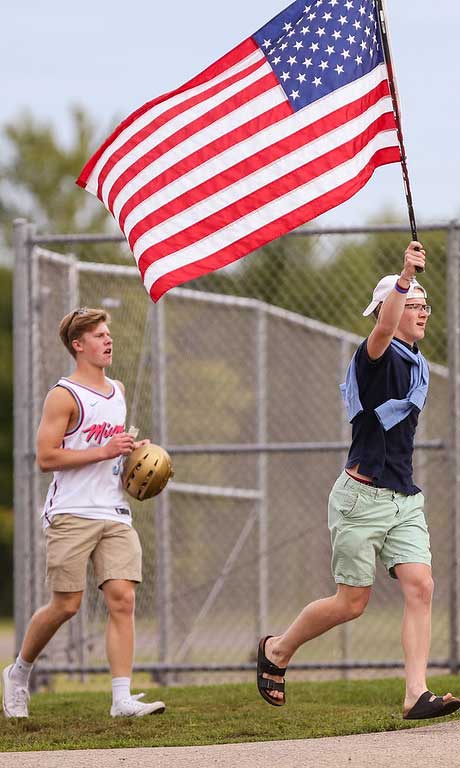 "I believe that I am the cheerleader, not the student section leader. We all cheer as one and support as one" Erik Iversen '19 said.
Regarding his favorite aspect of school, Iversen said, "Definitely the sporting events and supporting the school." He absolutely has pride for Lakeville South, and his pride for South is very well displayed when you hear his raspy voice after screaming at the top of his lungs at the game the night before. The school spirit that he possesses is truly impressive and he is a role model in that sense.
It is clear to see that he is there every game because he truly cares deeply about our football team and wants to cheer them on regardless of performance. Not only does he go to football games, but he also goes to almost every volleyball game as well. Iversen has shown his dedication to LSHS sports, and you can feel the love that he has for Lakeville South; this is why many students weren't shocked at the announcement of his name on the homecoming court.
"Erik was a perfect fit for the court. He represents our class very well in the aspects of how hype we can get and I see him as a leader at football games, so it makes perfect sense that he would be on the court" Camden Mast '19 said.
Even with all of this senior support, Iveren still didn't expect to be on the court. Once he glanced up and viewed his name on the banner, his first thought was simply "Oh wow, I'm on homecoming court." He never expected to see his name up there and he was genuinely stunned that he made it.
"I believe that others deserved it more…others are more qualified," Iversen said.
This shows Iversen's humbleness towards the nomination, and it also shows that his cheering isn't an act. He never cheered just so he'd be nominated, he gave up his vocal chords because his school spirit is unmatched.
Even with all this said, he is still very honored to be on the homecoming court and looks forward to homecoming, especially the game of course.