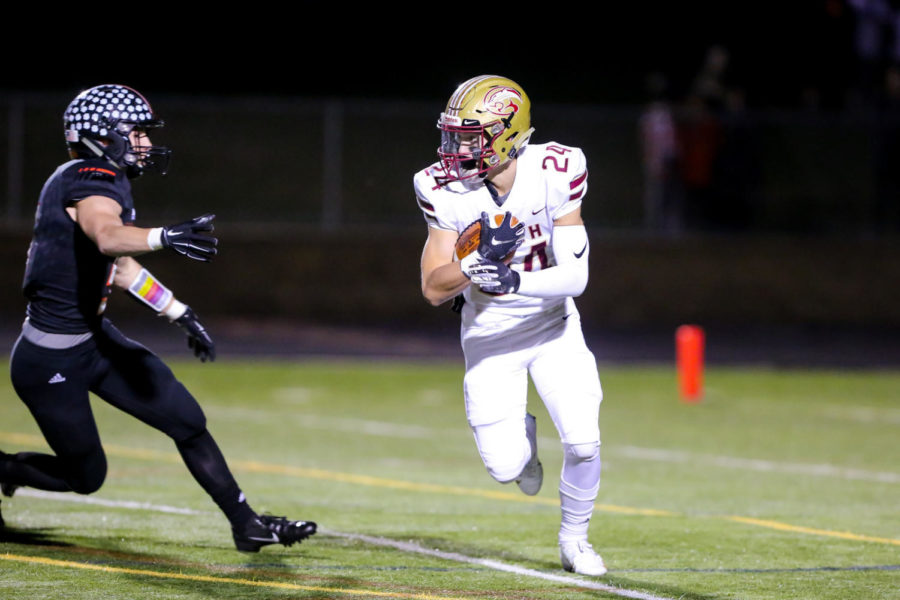 Q&A with Junior Running Back Johnny Shabaz
The Lakeville South Football team has had quite the turnaround this season, in particular the last 4 weeks, in which they've averaged over 40 points a game, and have advanced to the state tournament for the first time since 2010. A big reason for this sudden surge is the lethal running game that has really come alive, headlined by the teams leading rusher and receiver, Junior Running Back, Johnny Shabaz. Our own Nolan Telthoester sat down with Johnny ahead of Friday's state game against Woodbury to discuss the season, his success, and what this team has been able to accomplish against all of the odds.
Q: Which coach do you think has helped you the most through your junior season?
A: Coach Burk and coach Draper have really helped me this season. Draper has helped me with vision this year and Burk has worked on my mental game.
Q: Has learning from your mistakes from the early season helped improve your game?
A:  Yes, at the film sessions the morning after games we see what we did wrong and it only helped us with the playoff push.
Q: What has Reid brought to the table as the new quarterback this year?
A: Reid's been doing great this season from making plays to getting me the ball. Really just a good leader.
Q: How does it feel to be leading in rushing and receiving yards for your team?
A: I think it's cool, but I try not to get caught up in stats as long as we're winning games toward the playoffs.
Q: Do you think that North being the debatably best team in the state has motivated you guys this year?
A: Yeah for sure, I think that they are a beatable team and if we play them in state that we'd win.
Q: What do you think changed in your mindset as the season went on?
A: I was really nervous towards the beginning of the season because it was my first time on varsity, but now I'm just really excited to get out and play.
Q: How has the team shifted from the first game to the last?
A: We just keep getting better week to week and lately our offense has been doing really good.
Q: Is it harder work to be a winning team or a team who usually scores low?
A: It is actually harder work being a winning team because we do a lot to maintain our status like lifting after games and a lot of film sessions.
Q: Is there anything you would change about the team if you could?
A: I wouldn't change a thing.
Q: What is it like to have such a dedicated and traveling student section?
A: It's really awesome to always see the same people from game to game.
Q: What are your thoughts on going into state as the biggest underdog?
A: Honestly, it's just excitement. We have a chance at playing in the U.S. bank stadium where the Vikings play. I think the team is ready
Q: What's the biggest to maintain when you're winning a game?
A: I just like to think the score is still 0-0 until the game is over
Q: Any last words before your first playoff game against Woodbury?
A: You've never faced a team like us.