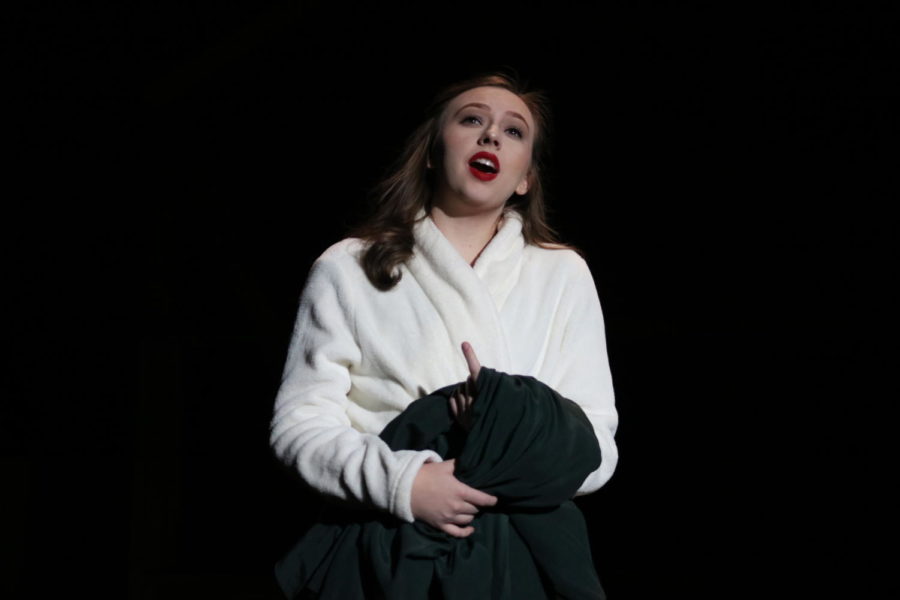 Calli Fleming
Q&A With Theater Actor Tyler Railey
Theater at Lakeville South is in an exciting time. Just as the production of "It's A Wonderful Life" wrapped its 3 show run, the theater program has begun work on its one-act play "Tracks". One of the standouts from the play was Junior Tyler Railey, who played the main character's wife, and she will also be a co-lead in "Tracks". We sat down with Tyler to discuss her past acting opportunities, how she felt the play went, and what to expect from "Tracks", which is expected to perform in early February.    
Q: Who has been your biggest theatre influence?
A: My director for sure has really inspired me thus far.
Q: In your opinion, how did the 3 shows end up going?
A: The 3 shows ended up going fantastic, the audience seemed to love it and I enjoyed being a part of it.
Q: Do you think to have a new director influenced the quality of the performance?
A: Absolutely, We did a ton of drills and everything. Tried our hardest to keep it close to the basics of acting. Just getting down to the nitty-gritty.
Q: What was the best moment during preparation in your mind?
A: I don't really have any specific moments, but there were a few times when it actually clicked in and I felt the connection to my character.
Q: What is the main thing you've walked away with after this show?
A: Definitely my character, I feel like I have a part of her with me at all times. Kinda cheesy I know.
Q: When did you start participating in the theatre?
A: When I was really little, but probably around fifth grade or so.
Q: What has been your favorite performance thus far?
A: Definitely "Seussical Jr.", I did that in Georgia in seventh grade and I moved here last year.
Q: What would you be doing if you weren't acting?
A: I would love to pick up figure skating, I really just love seeing it.
Q: Do you plan to continue with theatre in the future? If so what are you looking forward to?
A: I do want to continue with theatre or anything around music. The goal is eventually to move to New York and expand my career in music I guess.
Q: Are you excited about the upcoming one act and what can we expect from it?
A: The cast list came out yesterday and I am very very very excited. It will be great and everyone on the cast is insanely talented.