Botticelli at the MIA
As the weather gets colder, finding going-out activities can be more challenging. Winter activities like downhill skiing and ice skating usually cost money to rent equipment, but getting into museums can be completely free as long as you're a student. This fall I took a break from the cold and visited the Minneapolis Institute of Art, where I was able to get lost in the meandering halls of American, international, and contemporary art. My favorite part of going to a museum is to see whatever limited exhibition they have on display, and this time it was a Botticelli walk through exhibit, on loan from the Uffizi museum in Italy.
Sandro Botticelli was one of the most renowned and well known artists of the Italian Renaissance. He is well known for his oil paintings such as The Birth of Venus, Adoration of the Magi and Primavera. The Italian Renaissance was highly influenced by Christianity as well as humanism. This caused many of the great painters to include both Christian and pagan symbolism in their art. Sandro Botticelli is known as one of the greatest artists not only of the Renaissance but of all time. His attention to detail and the way he emphasized passion and emotion in his work reflected the values of the Renaissance and caused his work to be one of the most studied and renowned of all time. 
Every year for AP Art History, Mr. Woollen takes his class to the  MIA. I talked to him about why this field trip is important. He explained that the reason he takes this field trip is to "show them art, expose them to art of the ancient near east, Egypt, Greece, Rome, and the Islamic world. . . We just completed units on that so we went to look at some examples, and I also wanted them to look at art and find something they could connect with" He talked to me about his personal experiences with going to museums as a kid, "I hated it. My parents would take me and we'd stay there for like three hours, and we'd walk around, I didn't know what I was looking at, I was tired, wanted to lay down, so I didn't want to go for many many years because of my childhood experiences." He explained to me why he thinks it's important that students have a fun experience at museums, rather than just going, seeing things, and not taking anything in. "Kids need to have an experience where it's fun and a little bit short, like an hour, and gives them a good kind of like, an experience where they can see some stuff and find things that they like." 
Woollen's favorite piece at the MIA is Lucretia, painted by Rembrandt Harmensz van Rijn, a painting of a Roman girl taking her own life.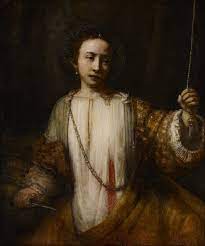 The MIA is always free for students 17 and under. The Botticelli display will leave on January 8th of 2023. General admission is $20, but youth 17 and under get in free!