Lakeville South Boys Basketball Home Opener
        The new winter season brings new activities at Lakeville South High School, as the Varsity Boys Basketball team opened up their season with a bang against the Wayzata Trojans last Tuesday, December 6th. Despite being ranked eighth in class 4A, our Cougars took down the third rank within the last few seconds of overtime, with a close final score of 45-43. The low and tight scoring is a direct reflection of the work these teams put in, as each player gave their best effort to hold their opponent off. By the end of the first half, the Cougars held the lead with 27 points as Wayzata trailed closely behind them with 23. The Trojans managed to pull ahead and held the lead for the majority of the second half, until South tied the game 39-39 with a minute left to go, the score remaining stagnant for the rest of the game.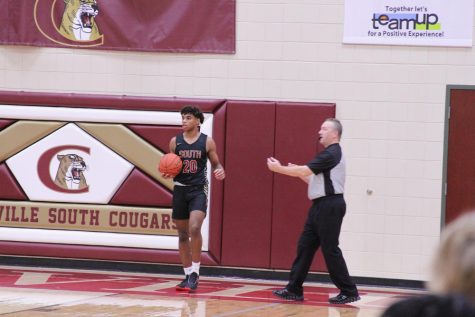 Not only did these young men put on a show, but they also proved their bond of brotherhood and their dedication to one another. Whether it was small things like helping a player up from a fall, or witnessing the excitement of fellow teammates watching from the sidelines, the team moved as one, despite it only being their first game together. This infectious bond trickled into the audience, and viewers felt like they were part of the team as well. When asked about the energy of the crowd, attendee Kellan Kankel (Junior) stated that he felt as though onlookers were "really into it," specifically as Wayzata missed their first free throw shot, and that the "home court advantage" accumulated more guests, playing a part in Lakeville South's success. 
I had the opportunity to ask Junior Captain Marcus Burks a few questions about his thoughts and feelings after this first game:
Q: What was the most challenging part about Tuesday's game?
A: The most challenging part about Tuesday's game had to be keeping the team positive and pushing through adversity. At one point we were up 15, within 2-3 minutes we were tied, and then eventually went down. I told everyone on the bench, "this is where it gets fun" as a way of saying "they're really good, this is supposed to happen." We all played in the present, took it one play at a time, and caught the "W."
Q: As this was your home opener, what are your initial thoughts/ first impressions on the way your team works together as a unit this season?
A: We have a lot of new people and new leadership with this year's team. We've all worked hard on and off the court trying to build a connection and a sort of brotherhood. We're getting there, and I'm proud of how we stayed together and didn't falter in adversity- all eighteen guys stayed composed and we were picking each other up even after mistakes. We have a lot to work on, but the sky's the limit.
Q: What's different this season in terms of your newfound position of leadership, and how does that affect your mindset moving forward?
A: I'm grateful to have been chosen as captain this season. I love it, it forces me to think outside of myself and stay positive at all times. As a captain, I have to stay composed and build up teammates. Last year as a sophomore, I was more focused on myself and trying to prove myself for playing time, trying to put myself over the next guy. I am still working just as hard this year, however it's coming from a place of selflessness.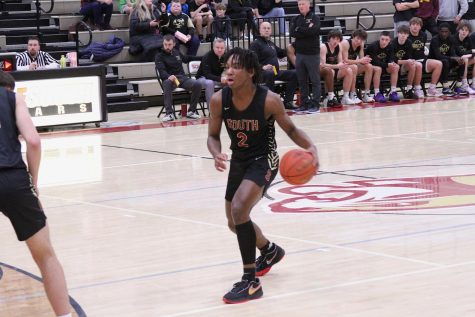 Q: Who is one other teammate that you believe gave their 100% this game and made an impact on the success of the team?
A: Joe Hager was definitely the catalyst this game, not just because of the game winning tip in either. He had a lot of really good rebounds- we needed that. Wayzata is a very physical and scrappy team, and Joe held his ground and did work down in the post. Joe also had 11 points off the bench which really helped us in this low scoring game. Proud of him!
Q: Do you feel confident going into the rest of the season after this first game?
A: I am 100% confident that we're a state tournament team, and tonight just reassured what I already knew. We play harder than anyone and we out-work everyone- that's Lakeville South basketball.
Q: Do you have any pre-game rituals?
A: I pray before every game, I thank God for the gift he's blessed me with and I pray over all my teammates. Then I meditate to clear my head, this is important so I stay composed and don't think about things I can't control on the court. I always listen to "Villuminati" by J Cole before games too, that's my go-to.    
    It's evident after this opening game that the Lakeville South boys basketball team has a bright 2022 season ahead of them. They truly brought their best abilities to the court, and showed great strength, sportsmanship, and resilience against a difficult opponent in times where it mattered the most. The skills that each player portrayed melded perfectly together- the product being a fast-paced, thrilling show that put the audience at the edge of their seats, and makes one proud to be a Cougar.
Follow @LSCougarHoops on Twitter for more basketball updates.