Homecoming week was jam packed with festivities at Lakeville South, with a new theme each day, the crowning of our homecoming royalty, a spirit filled football game, and last but not least, the homecoming dance! Everyday held something special for students to participate in aside from their regular extracurriculars, especially for upperclassmen. One of these upperclassmen events stood in the midst of it all: a long-standing tradition that was ultimately new for existing students at South- Powderpuff. The game allows junior and senior girls to compete in a playful game of flag football with our very own Lakeville South football team volunteering as coaches. The event is rather performative, with both coaches and players being somewhat roleplayed by students, yet its silly nature does not take away from its competitive atmosphere. Despite its popularity in high schools across the United States, the event has been on hiatus for the past few years at South- until this year, making the 2023 homecoming one to remember.
The powderpuff comeback can be attributed to a few student leaders, seniors Brooke Bischof and Leni McNamara. The two took initiative in petitioning for the games revival, and were working consistently behind the scenes to make sure the night lived up to expectations and went smoothly. According to Brooke Bischof, the two worked on "making sure everything was organized" by "advertising on social media," gathering teacher volunteers, designing, ordering, and distributing shirts to players, as well as keeping teams, permission slips, and money all in check. With all this hard work and pressure put on the students in charge, expectations were seemingly high, and Bischof claimed she was "scared that it wouldn't come out the way [they] expected."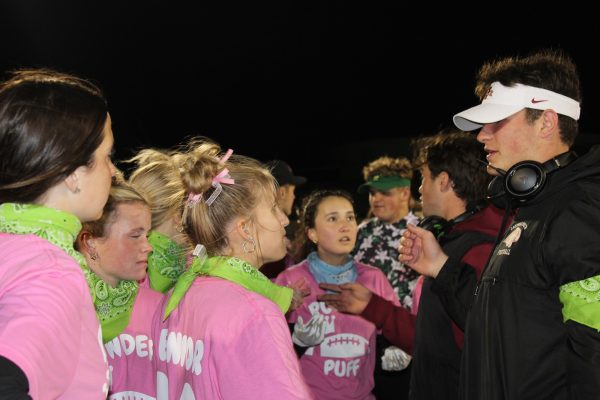 Since the event was brand new to existing students, many didn't know what to expect, but spirits were high once the big night rolled around. The girls started by meeting with their teams and coaches to warm up outside the stadium fences. "Everybody was excited to play" and the atmosphere was "electric" according to senior coach Kellan Kankel. The girls talked amongst themselves, added accessories to their uniforms, and ran plays before making their way into the stadium. The sidelines were buzzing with not only supportive chants from teammates but shouts from the coaches- who really had their hearts in the game. In fact, when asked about her favorite part of the entire night, senior Ashley Sutton claims it was "the drama of the coaches" as it was "probably the funniest thing [she] has ever seen in [her] life." The boys even had their own brawl on the field after coaches charged at one another, creating a massive pile of real football players. Senior coach Charlie Hayes himself has been wanting to experience Powderpuff for his "entire high school career," after competing in Powderbuff and wanting the same opportunity to coach his classmates. For him, the best part was seeing "the girls running off the field so proud of themselves" after making trick plays, as well as "storming the field after winning,"- a heartwarming moment for everybody to be apart of.
Though the game was filled with excitement and energy, Sutton was surprised at how "easy going and fun" it was. With how smoothly the night went, it'll be difficult to take it away from students again without a fight. It served as a fun way to "bring the upperclassmen together for one reason" and being a part of it felt really special. For seniors, your final homecoming week is one you want to remember forever, and getting together with a large group of your classmates on home turf to play the game you watch every week from the stands is an opportunity you can cherish forever. It allows for students to gain a sense of community at Lakeville, working together with your class towards one objective. Yes, the objective was to win, but the true outcome was a lighthearted, fun night that just happened to end in a victory for our seniors. Powderpuff's revival doesn't stop after this year, but thanks to a few senior leaders, we expect the tradition to be carried on for years to come.