Taylor Swift Red (Taylor's Version) Review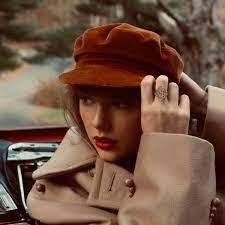 Taylor Swift Red (Taylor's Version) Review
                                               By:Nora Boyd
On October 22,2012, Taylor Swift dropped her fourth album named Red. Swift announced in 2019 that she was re-recording her first five albums so they can be her own. It started with Fearless (Taylor's Version) that dropped on April 9, 2021. She then announced the next album to be Red and that is to be released November 12, 2021. The 2 hour long album is just what everyone had been waiting for; the wait was worth it. 
    Taylor Swift dropped her first album on October 24, 2006, named Taylor Swift. She was 16 years old when that album was released and 21 when Red released. In those six years she won four Grammys and had been nominated for nine Grammys. Swift's first Grammy was for her song White Horse. She won two Grammys for that song and two Grammys for the Album Fearless. In the same year Red dropped, She also got another three Grammy nominations and won two of them. Ever since Swift dropped her first album her fame was on a rise, she continued with every album to write beautiful and catchy songs that really hit the audience. Red and Red (Taylor's Version), are no exceptions.
Taylor Swift probably has a couple reasons for re-recording her original albums, but one main reason is involving copyright. Swift's original albums were under the record label Big Machine (which she is not a part of anymore) and so originally the money she made would be going to herself and that record label. In 2019 the head of the label (Scott Borchetta) decided to sell the company's rights to a bigger company and that it was run by Scooter Braun. He was apparently a bully to Swift and is in charge of artists like Kanye West and Justin Beiber. The deal resulted in Braun owning Swift's music and the rights would go to him and not Taylor. Taylor, who already left and went to Republic Records, decided to re-record her albums to hopefully have the master back. Swift said "Artists should own their own work for so many reasons, but the most screamingly obvious one is that the artist is the only one who really knows that body of work." So now Swift, with her new label, is re-recording all her original albums and making them better. 
    She started her re-recording of Red with the same order of the original album. She then added her bonus songs for the original album and then the new vault songs that had never been heard before. A part of the album tells a story of a girl who falls in love and goes through a relationship with how amazing it's going to be, and starts to see so many red flags. Many theories of who the album is about have been talked about but the top person is actor Jake Gyllenhall. Fans thought that one of her songs "All too well" was about him and then put pieces together and think a big part of the album is actually about him. Red to Taylor swift was called "a pure heartbreak album" in an interview with Rolling Stones and said how she looks back on this as her only break album. Now the songs weren't all about the same guy after some research, they were about different ones, because you know Swift had a lot of relationships. Let's be honest, listening to both the original and the re-recording version would make anyone feel like they just went through a rough break up.
    Swift starts off the album with State of Grace, an almost five minute long song. The song is the start of the love story in the album between a girl and a guy. It tells how they met and how she never expected to meet you. In the lines " And I never saw you coming and I'll never be the same," explains how he changed her and how this love changed her. She also foreshadows the relationship's struggle to come in the chorus: "This a state of grace, this is a worthwhile fight, Love is a ruthless game, unless you play it right," showing that love isnt easy and this relationship isn't an exception. The beat of the song is a simple drum beat, but mixed with the lyrics feels like a heart beat going through your body. In the second, third, and fourth tracks they show how the love of two people started to turn bad and how she knew that he wasn't good for her but she wouldn't let go of him. The relationship started perfectly but perfect doesn't mean it will stay that way forever. With the third track, Treacherous, it starts off with an innocent guitar but in the song the beat and the intensity grows. It gets angier as she gets more angry too and as the song plays out it makes you want to scream your feelings out. Compared to the simple happy beat of the drum in state of grace, it shows how the relationship was simple until it wasn't anymore. 
Taylor Swift ended her album with the ten minute version of track five, All too well. All too well was originally a ten minute long song about a relationship Taylor Swift was in that ended up with her getting her heart broken. The song starts with the relationship in the beginning phase and her coming to meet his family for the first time and she left her scarf there. That scarf is a detail that comes back in the end when they are separated and where he "kept my old scarf from that very first week". It signifies how he lost the only good thing he had and shows how he still loved her. Now in the ten minute version it gives way more detail about how the relationship turned toxic and gives more detail of the reasoning he gave for breaking up with her. In the relationship that people thought the song was about, Taylor was about 20 or 19 and Jake Gyllenhaal was around 30. She gave detail about why he thought they needed to break up in the lyric "You said if we had been closer in age maybe it would have been fine". Taylor also gave multiple hints of why people think it is Jake Gyllenhaal. She gave hints about the age, how he has a sister (who is also an actor), and how they were together for three months which is that same time for her and Jake. Taylor also made a short film with the song All too well. It stars Dylan O Brian and Sadie Sink and it really gives people a visual of the relationship that was in the song. The first time I listened to the ten minute song, I was sucked into the story and it made me feel like I was in a toxic relationship. Then actually seeing it as a visual was amazing and I couldn't take my eyes off the screen. The ten minute version was what really pulled the story of the relationship in the album together. 
With the album and the original bonus song there were nine new vault songs that she wrote in the past, but did not put them in the album. The album had collaborations from Ed Sheeran, Gary Lightbody, Phoebe Bridgers, and Chris Stapleton. Two of the vault songs on the album were collaborations with Ed Sheeran, which were Everything has changed and a new song called Run. Some of the bonus tracks were even more touching re- done than as they were originally. One of those songs was Ronan. Ronan was a song about a little boy who Taylor had met and had cancer. It's a song about a sweet moment that people remembered about Ronan. It was a song that I had never heard before, but when I did, I immediately was given this vision of this little boy. That is what Swift does, she uses amazing phrase words blended together to paint this beautiful picture. 
Now I know it's like a standard way of thinking of Taylor Swift as the girl that writes break up songs, but why does she have all these songs? Now in the re-recording Swift stated on Late Night with Seth Meyers that she said "I haven't thought about their experience, to be honest". She made it clear in that interview that she was over those breaks up and not sad anymore. She is now in a long term relationship with actor Joe Alwyn and life is good. That wasn't the same for Taylor in the past who actually just had these breaks up before writing the songs. She writes these break up songs because it's a way for her to cope. We all have our different coping methods and writing music is one of Swift's. Now we don't for sure know if she wrote them for revenge but let's be honest if I was one of those guys, I would hide in my house. The songs are all her emotions and just send a powerful message and a story that really makes the listener feel something. Even with the re-recording, she puts just as much emotion, even though she's not heartbroken anymore. 
Listening to the Red (Taylor's Version) is something I think any pop or romance music fan should do. I don't think people can assume what the album is about without really listening to it and understanding the lyrics. The All too well ten minute version was better than anyone could imagine it was. Even if you have never listened to Red before, you would feel something listening to All too well. All too well is like being put on cloud and feeling so happy and then being dropped, because of the heartbreaking story. Some songs she sang a different way or made a different way, just to try something new. Any version of these songs would work, I loved how Swift really wanted her fans to feel something. Your heart would start hurting and then the song switches and you bounce up and down. It's not even just the song telling a story but the whole album is a giant story of an experience Swift had to go through. Especially with Covid, she wanted to shock them with the release of two albums and two re-recordings. She was like a magician pulling out all these grammy worthy albums out of her hat. The album was everything anyone could think of and more.